Have you ever been in front of a mirror and found yourself too big or too small or just an absolute misfit for a dress you could not get your eyes off. Does this incident ring some bells ladies? I know that feeling. I have been there and it took me a long time to realize that every dress is not meant for everyone. Don't be disheartened because that's what makes us unique. So what needs to be fixed? Before you start beating yourself over that something is wrong with you, you need to understand that we all have different body shapes and so we just need to find the dress which will flatter our body type. Body shapes are broadly categorized into four types. Below is a guide for what kind of dresses suit which body shape. Buy a dress from Zalora Store and avail discount by applying Zalora Promo Code.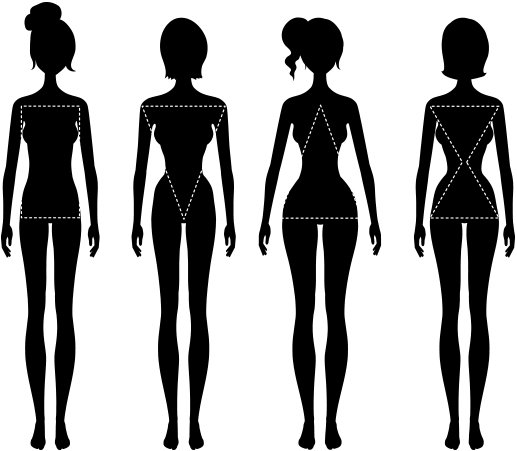 Apple shape body type (Inverted Triangle):
You will fall under this apple-shaped figure when you have a heavier upper body in comparison to your lower part of the body. People with this body type usually have broad shoulders, bigger bust line, they carry their weight in their midsection and usually have a shorter, undefined waist, and slim legs.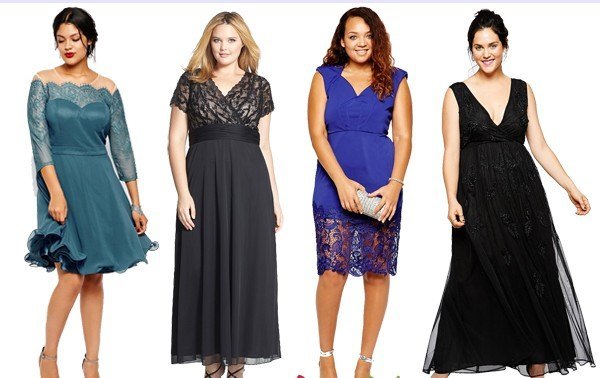 What to wear:
You should go for dresses that balance your top with the bottom. Dresses with V necklines as they create an illusion of longer torso. Try on shorter skirts and dresses that show off your legs and draw attention away from your midsection.
What not to wear:
Avoid wearing an outfit with a different pattern in the belly area. This will draw more attention to your belly. Never wear clingy dresses, stay away from thick belts, which will draw more attention to your mid-section.
Pear body shape (Triangle):
Girls with a triangle body type typically have all weight in the lower part of their body hence larger hips & thighs and a thinner upper body. What to wear: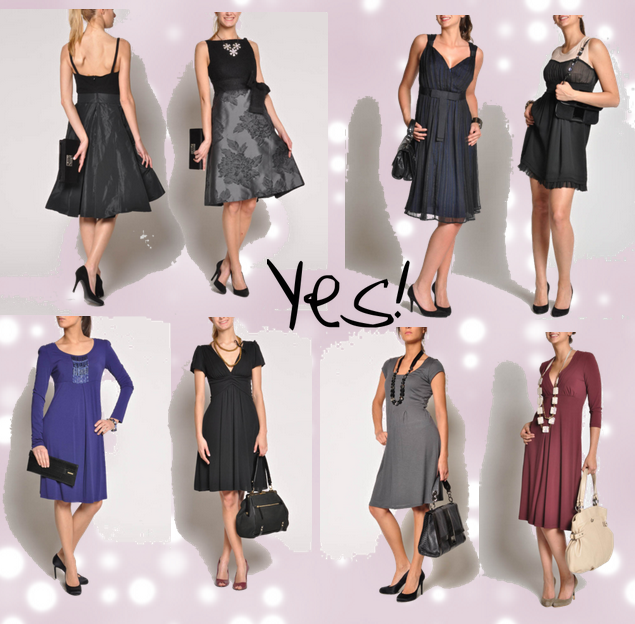 What to wear:
Look for A-line dresses and tulip-skirted dresses, making sure the bottom half is not tight to the body. All the details (bows, beads, frills) should be on the top of the dress: it draws all the attention to this area and creates volume and helps to accomplish a balanced proportion. Pick up a dress that shows off your tiny waistline.
What not to wear:
Do not wear patterns and light colours around your hips, tights, and bottom. Avoid wearing any tight knits on the bottom because they cling and accentuate your width.
Hourglass shape:
Your bust and hips are well balanced and you have a well-defined waist. You have slightly rounded shoulders that align well with your hips, creating a balanced proportion. Your waist is narrow and gracefully curves out to your hips. You most likely have a rounded bottom and your upper body is proportionate in length to your legs which are shapely. Flowing dresses that are banded at the waist are perfect to show off your curves, creating a dramatic hourglass effect.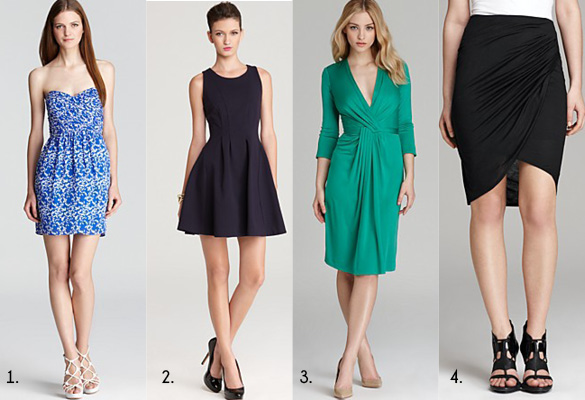 What to wear:
Form hugging tops can really flatter your silhouette. Also, you can further enhance your waist by adding a belt to a basic dress. Wrap-style dresses were made to accentuate your thin waist and enhance your hourglass figure.
What not to wear:
Any style that hides your narrow waist and your feminine silhouette. Runaway from styles with too many details at the hip and avoid decorative embellishments or other decorations at the bottom.
Rectangular:
Your shoulders and hip measurements are nearly the same. Your waist isn't very small or well-defined, but rather straight up and down. Your weight is evenly distributed throughout your body.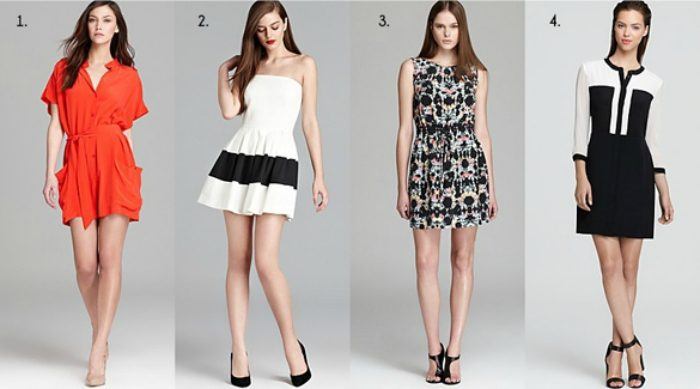 What to wear:
Wear dresses that break your silhouette and create curves that move up and down from the middle area of your body. Go for ruffles and frills to add texture, volume, dimension, and femininity to your figure. Choose short dresses to make the most of your great legs. They will also add more shape to a straight body. Go for sleeveless dresses to flaunt your lean arms.
What not to wear:
void wearing still and shapeless dresses that will accentuate the lack of curves. Try not to wear high necklines as Chinese collars, closed neck clothes and boat necked clothes.